When my kids were little, we lived a few minutes drive from the Columbus Botanical Gardens and would visit them often to walk the trails, wander through the raised beds and enjoy being outdoors in a lively manicured space. We were pretty sure then that it was one of the best kept secrets of Columbus, tucked away off Weems Road in North Columbus – a little bit of paradise that very few people seemed to know about.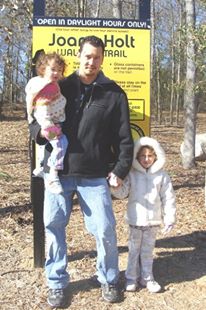 As one does when you move away from things: we changed addresses, got a bigger yard, and spent less time at the Botanical Gardens because I was building my own.
So when a friend of mine wanted an introduction to hiking the other day, the Botanical Gardens' Joan Holt Walking Trail was the first place I suggested for it's beautiful scenery and beginner's trails. Imagine my surprise when the little gardens I remembered had grown over the last 5 years!
The Joan Holt Walking Trail now touts a beautiful camellia garden towards the end of the trail (The Sam M. Wellborn Camellia Garden to be exact) and it's not full of your garden variety (pun intended) camellias, but spectacular specimens of all shapes and sizes!

There are benches available to pause and take in the nature around you and the soothing sounds of a fountain gurgling at the center. While we were there we saw a Cooper's Hawk swoop between trees and we were the only visitors to take in his flight!

I share this place of beauty and solitude with the risk that it may become a place of pilgrimage for many Columbusites and visitors; however, a thing of such beauty should be shared!

I hope you take the time to visit the Columbus Botanical Gardens and become a member (membership allows you benefits at over 300 additional gardens, conservatories, and arboreta within the US). Check out their upcoming events and let friends know that it makes an excellent wedding venue as well!
See you on the trails!